It's not by chance that the venue for the very first Heritage Ambassadors networking meeting is Caffe Fiorio in Turin, Italy. This is where Count Cavour and Giuseppe Garibaldi met to discuss the Reunification of Italy. Since it's our ambition to bring together folks from around the world, to appreciate and promote their heritage, this seems to be the right place to start. Heritage Ambassadors came in their numbers… not only for the good hot chocolate!
The very same cafe room where the Reunification of Italy was first discussed!
Now we're discussing the reunification of heritage initiatives around the world!
Carolina, the Doyenne of Heritage Ambassadors, converting another to the cause!
Getting to grips with all the resources and tools provided by ArtAcadia.org!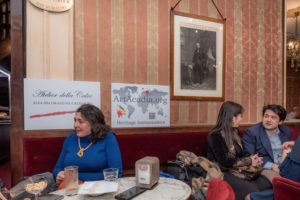 Atelier della Calce (Sponsor), ArtAcadia.org and Count of Cavour (Host)!
Paola, Carolina & Mariasole ~ Grandmother, Mother & Daughter = Heritage!
Every family has a heritage. We must remember and cherish our past. Preserve and promote it… as a Heritage Ambassador. Let's congregate, network and compare notes. We look forward to seeing you at the next meetup!
Meetup – Turin, Italy – Caffe Fiorio – 10 January 2019
[supsystic-slider id=1 position="center"]
Meetups play an important part in ArtAcadia.org and how Heritage Ambassadors interact. It's a great way to keep things local, while thinking global. Reaching out to the world and reminding everyone how important it is to know who we are, where we came from… and the road ahead. Travelling together towards a future rich in heritage!
Before I let you go…. here's another fact about tonight's venue. Caffe Fiorio was a regular haunt of Mark Twain. This was his favourite cafe when in Turin. He wrote several works here, in the very same room we occupy today.
I'll leave you with this advice from Mark Twain…
"Twenty years from now you will be more disappointed by the things that you didn't do than by the ones you did. So throw off the bowlines. Sail away from the safe harbor. Catch the trade winds in your sails. Explore. Dream. Discover."
Click here to catch a trade wind…
Carolina Reviglio della Veneria
Heritage Doyenne
"Only once we fully understand where we come from… and truly appreciate our heritage… can we imagine a fabulous future filled with the richness of our past. Life is ours to design!" I'm on the web here >> CarolinaReviglio.com
Please share this post to your social circles…