Sydney Opera House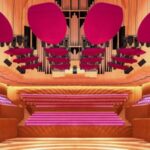 Fusing ancient and modernist influences, and built on a site sacred to the local Gadigal people for thousands of years, the sculptural elegance of the Sydney Opera House has made it one of the most recognisable buildings of the twentieth century, synonymous with inspiration and imagination. As Pritzker Prize judge Frank Gehry said when awarding architecture's highest award to the Opera House's architect in 2003: "[Jørn] Utzon made a building well ahead of its time, far ahead of available technology… a building that changed the image of an entire country."
Built to "help mould a better and more enlightened community," in the words of New South Wales Premier Joseph Cahill in 1954, the Sydney Opera House has been home to many of the world's greatest artists and performances, and a meeting place for matters of local and international significance since opening in 1973. Today it is Australia's number one tourist destination, welcoming more than 8.2 million visitors a year and one of the world's busiest performing arts centres, presenting more than 2000 shows 363 days a year for more than 1.5 million people, from the work of the seven flagship arts companies to which it is home to First Nations' arts and culture, talks and ideas, theatre and dance and the superstars of classical and contemporary music.
The breadth of those experiences reflects our visionary 1961 Act, which charges the Opera House not only with the promotion of artistic taste across all art forms, but also "scientific research into, and the encouragement of, new and improved forms of entertainment and methods of presentation." But while the tale of the Opera House is one of breathtaking triumph, it is also one of personal cost. The building's design was inspired – entirely unlike anything that had been seen before. Pressures piled upon its architect, Jørn Utzon, who left Australia midway through construction, never to return to see the building completed.
Nevertheless, Utzon's masterpiece would define his career, and redefine the image of Australia both to itself and the world. An exercise in nation building, as Joe Cahill underlined, it was an extraordinary collective act of dreaming in public; a work of art built for the performance of works of art and brought to life by people who believed in the power of imagination. Realising the dream took us all – visionaries and pragmatists, politicians and architects, engineers, artists and, most fundamentally, the people of Australia.
---
---