Saint Peter's Basilica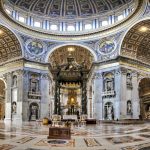 The Papal Basilica of Saint Peter in the Vatican, is an Italian Renaissance church in Vatican City, the papal enclave within the city of Rome.
Designed principally by Donato Bramante, Michelangelo, Carlo Maderno and Gian Lorenzo Bernini, St. Peter's is the most renowned work of Renaissance architecture and the largest church in the world. While it is neither the mother church of the Catholic Church nor the cathedral of the Diocese of Rome, St. Peter's is regarded as one of the holiest Catholic shrines. It has been described as "holding a unique position in the Christian world" and as "the greatest of all churches of Christendom".
---
---
---