Saint Peter Basilica Rome
---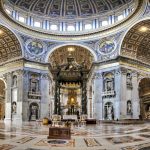 Saint Peter Basilica in Rome is one of the holiest temples for Christendom and one of the largest churches in the world. Besides, it is where the Pope presides many liturgies all year round.
The construction of the new basilica began in 1506, when the old basilica had been torn down, and was finished in 1626. It was consecrated on 18 November 1626. Several renowned architects designed the temple, highlighting the works of Bramante, Michelangelo and Carlo Maderno.
The basilica was called St Peter's after one of Jesus's twelve disciples known as Saint Peter, who became one of the founders of the Catholic Church and was executed in Rome and buried where the Basilica now stands.
The Papal Basilica of Saint Peter in the Vatican, is an Italian Renaissance church in Vatican City, the papal enclave within the city of Rome.
Designed principally by Donato Bramante, Michelangelo, Carlo Maderno and Gian Lorenzo Bernini, St. Peter's is the most renowned work of Renaissance architecture and the largest church in the world. While it is neither the mother church of the Catholic Church nor the cathedral of the Diocese of Rome, St. Peter's is regarded as one of the holiest Catholic shrines. It has been described as "holding a unique position in the Christian world" and as "the greatest of all churches of Christendom".
---
---
---