Saint Helena Island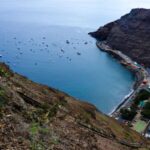 Saint Helena is the other side of British life, the one that very few travellers ever see. It is a place of unimaginable extremes with sub-Saharan savannah, Jurassic rainforest and English country gardens. It exists in a bubble, a headache-inducing distance off the coast of southwest Africa in the middle of the South Atlantic. Go farther west and you are on a coconut-fringed bay in Brazil. Neighbours here aren't easily won.
Saint Helena Island, located in the South Atlantic Ocean approximately 1,860 kilometres (1,156 miles) west of Africa, was one of the many isolated islands that naturalist Charles Darwin visited during his scientific voyages in the nineteenth century. He visited the island in 1836 aboard the HMS Beagle, recording observations of the plants, animals, and geology that would shape his theory of evolution. This image was acquired by astronauts onboard the International Space Station as part of an ongoing effort (the HMS Beagle Project) to document current biodiversity in areas visited by Charles Darwin.
The island's sharp peaks and deep ravines; the rugged topography results from erosion of the volcanic rocks are what makes up the island. The change in elevation from the coast to the interior creates a climate gradient. The higher, wetter centre is covered with green vegetation, whereas the lower coastal areas are drier and hotter, with little vegetation cover. Human presence on the island has also caused dramatic changes to the original plants and animals of the island. Only about 10 percent of the forest cover observed by the first explorers now remains in a semi-natural state, concentrated in the interior highlands.
Saint Helena Island is perhaps best known as the place where Napoleon Bonaparte I of France was exiled following his defeat at the Battle of Waterloo in 1815; he died and was buried on the island in 1821. Later, his remains were returned to France. Today, the island is a British Overseas Territory, with access provided thirty times a year by a single ship, the Royal Mail Ship St. Helena.
---
---