Sabor a España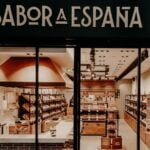 Sabor a España is a brand of traditional high quality Spanish products. They are master nougat, as well as brittle and dried fruit derivate makers, who try to bring the tradition of Spanish products back to a public that had forgotten about it.
Hard work and honesty are values of their family-run business. All their products have one thing in common – they are sold in towns and cities to remind their people that Spain's food tradition is much healthier, more nutritious and tastier than ready-made food.
They are currently expanding their trade and have 23 fully operational stores. Sabor a España moved to the town center of the most emblematic Spanish towns and looked for the best spots in each one of them to offer their most typical products.
---
Sabor a España es una marca de productos tradicionales españoles de máxima calidad cuya especialidad son los turrones, guirlaches y derivados de los frutos secos. En Sabor a España intentan llevar la tradición de los productos españoles a un público que lo tenía ya olvidado.
Sabor a España es una empresa trabajadora, familiar, honesta y sencilla. Todos sus productos tienen un punto en común y es que vienen a las ciudades a recordar a sus vecinos que la tradición culinaria de España es mucho más sana, completa y apetitosa que la comida prefabricada.
Actualmente se encuentran en plena expansión, contando en este momento con más de 23 tiendas por toda España en pleno funcionamiento. Sabor a España se trasladaal centro de las ciudades más míticas del país y buscan los mejores rincones de cada una de ellas para ofrecer este producto tan típico de la región.
---
---