Piazza San Marco and the Basilica
---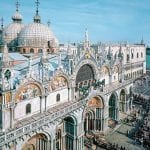 The Patriarchal Cathedral Basilica of Saint Mark, commonly known as St Mark's Basilica is the cathedral church of the Roman Catholic Archdiocese of Venice, northern Italy. It is the most famous of the city's churches and one of the best known examples of Italo-Byzantine architecture. It lies at the eastern end of the Piazza San Marco, adjacent and connected to the Doge's Palace. Originally it was the chapel of the Doge, and has been the city's cathedral only since 1807, when it became the seat of the Patriarch of Venice, archbishop of the Roman Catholic Archdiocese of Venice, formerly at San Pietro di Castello.
The building's structure dates back to the later part of the 11th century, and the most likely influence on its architecture and design is the Hagia Sophia. Much work has gone toward embellishing this, and the famous main façade has an ornamented roofline that is mostly Gothic. The gold ground mosaics that now cover almost all the upper areas of the interior took centuries to complete. In the 13th century the external height of the domes was greatly increased by hollow drums raised on a wooden framework and covered with metal; the original ones are shallower, as can be seen on the inside. This change makes the domes visible from the piazza.
The Basilica of San Marco overlooks one of the most beautiful squares in the world, a real marble salon, the city center for centuries. Next to both the Basilica and the Doge's Palace, all the most important religious and civil ceremonies have always been held there and now the Piazza San Marco is considered the city's main symbol and tourist attraction. This great square overlooking the water is a mixture of spaces, volumes and styles: the Procurator's residence, the bell tower, the Doge's Palace and the Sansoviniana Bookshop.
---
---
---