Ottagona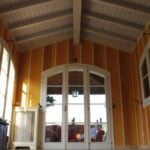 Ottagona è una società d'interior-art-decoration. La scelta del nome Ottagona riporta alla figura dell'ottagono che dall'antichità ad oggi, dalla fisica all'architettura, richiama l'equilibrio, nel suo significato più esteso.
Passando attraverso l'antica tradizione della pittura e della decorazione, usiamo tecniche tradizionali ma aggiornandole ai nuovi gusti; lavoriamo principalmente con prodotti naturali accostandoli a materiali sempre diversi. Ci piace reinventarci e lanciarci in nuove scommesse.
La sfida ci stimola ad utilizzare nuovi supporti con la capacità e la curiosità di diversificare i materiali. Con il cliente proponiamo un confronto; partiamo dallo studio di bozzetti, con i quali mostriamo le nostre idee e trasmettiamo una "sensazione", una visione di quel che sarà il nostro intervento.
Studiando l'ambiente, cerchiamo d'integrare il nostro intervento nella storia del luogo e del paesaggio circostante. Ci piace definirci artigiani del colore. Insieme, nei diversi anni abbiamo eseguito lavori in Italia e all'estero, lavori in cui ci avvaliamo di fidati collaboratori.
---
Ottagona is an interior-art decoration company based between Milan & Nice. Ottagona in fact believes in a flexible and personal design. We pay attention to the quality of the materials and their duration through time.
Ottagona utilizes traditional techniques of painting & decoration but adapting them to new tastes and styles by combining traditional materials such as gold/silver leaves, pigments, marmorino and stucco to new support.
Each project is unique and has been studied and created ad hoc for and with each individual client, as "we truly believe that investing on the quality of the spaces means investing on the quality on our lives".
---
---
---