Moorabbin Air Museum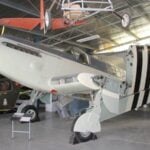 Moorabbin Air Museum. Situated at Moorabbin Airport in the South Eastern suburbs of Melbourne, the Museum has one of the most significant collections of aircraft and engines in Australia. We provide public access to a number of aircraft on display, allowing visitors to interact and to experience life as a Military, Naval or Civilian pilot. ​ Group tours can be arranged by appointment. Please contact the Museum for more information. Founded in 1962 and run by a dedicated group of volunteers and members, the Museum has expanded to have a collection of not just aircraft and engines, but models, uniforms and many other items associated with Australia's amazing aviation history.
The collection includes a number of very rare and unique examples of Australian made aircraft, including the oldest surviving Commonwealth Aircraft Corporation (CAC) aircraft – Wirraway A20-10; a Victa AirTourer and a DAP Mk21 Beaufighter, one of only two Australian made variants left in the country and the only Beaufighter left in the world capable of ground running. The Museum also owns the oldest surviving DAP / Bristol Beaufort which is now part of an ongoing restoration project.
The Museum also has a shop and kiosk facility where you can purchase drinks, snacks, and pick up a book, poster, model kit or complete aircraft model for your collection.
Due to a lack of available display and restoration facilities, not all aircraft are under restoration or on display. The Australian Aircraft Restoration Group has kindly loaned a number of the aircraft in its collection to other museums, to ensure that they can be viewed by aircraft enthusiasts.
---
---