Kamchatka Peninsula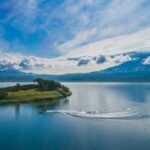 Kamchatka Peninsula, also spelled Kamčatka, Russian Poluostrov Kamchatka, peninsula in far eastern Russia, lying between the Sea of Okhotsk on the west and the Pacific Ocean and Bering Sea on the east. It is about 750 miles (1,200 km) long north-south and about 300 miles (480 km) across at its widest; its area is approximately 140,000 square miles (370,000 square km). Two mountain ranges, the Sredinny ("Central") and Vostochny ("Eastern"), extend along the peninsula and rise to 15,584 feet (4,750 metres) in Klyuchevskaya Volcano. The trough between these mountain chains is occupied for much of its length by the Kamchatka River. Of the 127 volcanoes, 22 are still active, as are a number of geysers and hot springs. Most of the active volcanoes lie along a fault line on the eastern flank of the Vostochny Range. The western coastlands of the Kamchatka Peninsula form a low plain crossed by many rivers and with extensive swamps, while the eastern coast is an alternation of broad gulfs and cliffed, mountainous peninsulas. A small geothermal-power station uses underground steam and is in operation near the southern end of the peninsula.
The climate of the Kamchatka Peninsula is severe, with prolonged, cold, and snowy winters and wet, cool summers. Most of Kamchatka is tundra supporting mosses and lichens, with thickets of Kamchatka alder. Sheltered lowlands—notably the valley of the Kamchatka River, which separates the mountain chains—are in birch or larch forest, with poplar and willow in wetter areas.
Watch the Sockeye salmon fish return to Lake Kuril in Russia's Kamchatka Peninsula to spawn while the brown bears wait to prey.
The only important economic activity is fishing, especially crabbing, around the coasts. Agriculture is limited; some cattle and reindeer are kept. The main centre is the city and port of Petropavlovsk-Kamchatsky, which is located on the south-eastern coast of the peninsula. Most of the inhabitants are Russian, with indigenous Koryak, Chukchi, and Kamchadal.
---
---