Il ragazzo del legno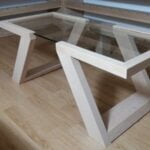 Vito Salerno, Il ragazzo del legno, is a young man of just 26 years but his is an ancient profession that, unfortunately, is disappearing. Chessboards, clocks, tables: these are the exclusive objects that Vito Salerno, a very young craftsman from Chiaramonte, produces from wood in his garage, used as a laboratory.
---
Vito Salerno, Il ragazzo del legno, è un giovane di appena 26 anni ma il suo è un mestiere antico che, purtroppo, sta scomparendo. Scacchiere, orologi, tavoli: sono questi gli oggetti esclusivi che Vito Salerno, giovanissimo artigiano di Chiaramonte, produce dal legno nel suo garage, adibito a laboratorio.
---
---
---