Diomede Islands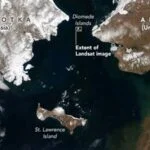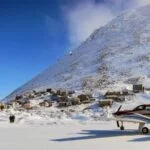 Diomede Islands, also known in Russia as Gvozdev Islands, are two small islands in the Bering Strait, lying about 2.5 miles (4 km) apart and separated by the U.S.–Russian boundary, which coincides with the International Date Line. The larger island, Big Diomede (Russian: Ostrov Ratmanova [Ratmanov Island]), has an area of 4 square miles (10 square km) and is part of Chukotskiy autonomous district, in Russia. It has no permanent population but is the site of an important Russian weather station. To the east lies Little Diomede Island, a part of Alaska, inhabited by Chukchi people who are skilled seamen. The islands' first European visitor was the Danish navigator Vitus Jonassen Bering on Aug. 16 (St. Diomede's Day), 1728. Pop. (2008 est.) Little Diomede Island (Diomede city).
Early Eskimos on the islands worked on the ice and sea and had a culture with elaborate whale hunting ceremonies. They traded with both continents. The islands were named in 1728 by Vitus Bering in honor of Saint Diomede. The 1880 Census counted 40 people, all Ingalikmiut Eskimos, in the village of "Inalet." When the Iron Curtain was formed, Big Diomede became a Soviet military base, and all Native residents were moved to mainland Russia. During World War II, Little Diomede residents who strayed into Soviet waters were taken captive.
The city was incorporated in 1970. Some residents are interested in relocating the village, due to the rocky slopes, harsh storms, lack of useable land for housing construction, and inability to construct a water/sewer system, landfill, or airport.
A federally-recognized tribe is located in the community — the Native Village of Diomede. Diomede is a traditional Ingalikmiut Eskimo village with a subsistence lifestyle. Seal, polar bear, blue crab, and whale meat are the preferred foods. Mainland Natives come to Diomede to hunt polar bears. Seal and walrus hides are used to make parkas, hats, mukluks, furs, and skins for trade. The sale and importation of alcohol is banned in the village.
---
---