Australian Age of Dinosaurs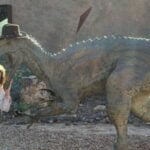 The Australian Age of Dinosaurs Museum of Natural History is a world-class organisation and home to the world's largest collection of Australia's largest dinosaur fossils.
Australian Age of Dinosaurs was incorporated as a not-for-profit organisation in October 2002 and was based at Belmont, a sheep station owned by David and Judy Elliott. In 2006 a rugged mesa and wilderness area 24km south-west of Winton known as "The Jump-Up" was donated by the Britton Family and the Museum relocated there in 2009. Today the Museum houses the world's largest collection of Australian dinosaur fossils and comprises a Fossil Preparation Laboratory, Reception Centre and the March of the Titanosaurs exhibition at Dinosaur Canyon. Future plans include the construction of Australia's premier natural history museum.
The Museum is a non-profit organisation which draws support from across Australia.
It all began with the discovery of a femur. In 1999 while mustering sheep on his property Belmont near Winton, David Elliott discovered the fossilised bone of what was, at the time, Australia's largest dinosaur. This bone was later identified as part of a giant femur from a Cretaceous sauropod that roamed the Winton area 95 million years ago.
Following the discovery of more fossils during digs held in conjunction with the Queensland Museum, David and his wife, Judy Elliott, called a public meeting in Winton on 17 August 2002 with a view to establishing a dinosaur museum at Winton.
On 25 October 2002 Australian Age of Dinosaurs Incorporated (AAOD Inc) commenced operations as a not-for-profit organisation aimed at ensuring future dinosaur digs and the preparation and conservation of dinosaur fossils from the Winton Formation could continue. The organisation, with support from a strong members' volunteer base, began the initial stages of developing a major tourism attraction in the form of a dinosaur museum so that the discoveries could be preserved for perpetuity and be available to the public. While mustering sheep in March 2005 David Elliott discovered a new dinosaur site on Belmont and a subsequent dig in September that year uncovered the remains of one of Australia's most complete sauropod skeletons.
A total of 17 pallets of fossil bones trapped in a fine siltstone rock were recovered and stored in the Belmont shed. The dinosaur was nicknamed Wade, in posthumous honour of Australian Palaeontologist Dr Mary Wade who died at the time the dig was being undertaken. In late 2005 the discovery of a partial sauropod humerus on Elderslie Station, near Winton, led to a series of digs held by the Museum and the recovery of two dinosaur skeletons preserved together, one being a sauropod skeleton and the other a theropod. The sauropod was nicknamed Matilda and the theropod was nicknamed Banjo, both in honour of Andrew Barton "Banjo" Paterson and his classic poem "Waltzing Matilda".
---
---