Andrea Cadoni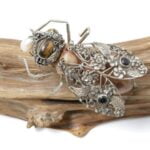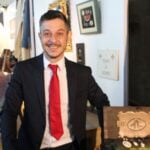 Both an artist and a goldsmith, Andrea Cadoni crafts precious jewellery characterised by extraordinary creativity and a skilful artisanal technique. His creations are unique, highly communicative and, just like in the most enthralling tales, the manifold sculptured and multifaceted details captivate us even in the simplest of objects. He was born in Cagliari in 1978 and he grew up in the mining village of Montevecchio, a charming locality in western Sardinia, where a strong bond with the typical nature of the island developed, which he later codified and expressed in his artefacts. After his course of studies at the School of Art of Alghero, where he specialised in the sculpture of coral and precious stones, in 2000 he started his activity as sculptor and goldsmith, distinguishing himself.
The feature of Andrea Cadoni's jewellery is the unusual use of seashells which he collects on the Sardinian beaches and manufactures according to his inspiration deriving from the original shapes, sculpting faces and decorations that bear distinctive and recognisable traits. Designed as one-off creations linked to a particular creative bent, his gold and silver necklaces, rings, earrings, bracelets, belts and buckles feature full chiselled shapes with finely carved stones and shells combined with other natural materials of the island, such as juniper wood. The collections Faces, Moments of Daily Life and Insects explore the issues that currently pique Andrea's imagination, in an ever-evolving creative process. Finally, the collection Special objects has an impressive scenic impact, with its sophisticated sculptures which are both compound and transformable.
---
Artista e orafo, Andrea Cadoni realizza pregiati monili di forte estro creativo e sapiente tecnica artigianale. Le sue sono creazioni uniche, di forte impatto comunicativo e come nelle narrazioni più avvincenti ci si sofferma nella lettura dei dettagli, sempre molteplici, scultorei e sfaccettati anche negli oggetti più semplici. Nato a Cagliari nel 1978, cresce nel borgo minerario di Montevecchio, suggestiva località della Sardegna occidentale, in cui sviluppa un forte legame con la natura isolana che sarà poi codificato ed espresso nelle sue creazioni. Formato all'Istituto d'Arte di Alghero con specializzazione nella scultura del corallo e delle pietre dure, avvia nel 2000 la sua attività artigianale di scultore e orafo distinguendosi nel tempo per il carattere sperimentale e di ricerca.
I gioielli di Andrea Cadoni si caratterizzano per l'inusuale uso delle conchiglie cercate e raccolte nelle spiagge isolane e lavorate seguendo le suggestioni delle forme originali, facendo emergere con tecnica scultorea volti e decori dal tratto distintivo e riconoscibile. Concepiti come opere uniche e legati ad un particolare momento creativo, collane, anelli, orecchini, bracciali, cinture e fibbie in oro e argento sono caratterizzati da fogge ricche e cesellate con l'impiego di pietre e conchiglie finemente scolpite accostate ad altri materiali naturali del territorio isolano come il legno di ginepro. Le collezioni dedicate ai Visi, agli Attimi di vita quotidiana e agli Insetti approfondiscono temi attualmente indagati in un processo creativo in continua indagine ed evoluzione. Di particolare impatto scenico è infine la linea degli Oggetti speciali, sofisticate sculture composte e trasformabili.
---
---